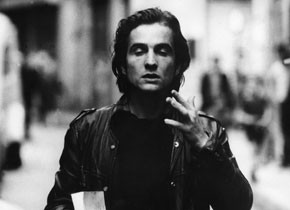 April 3 to May 7, 2009
In April 2009, the Austrian Film Museum pays tribute to the actor Jean-Pierre Léaud, a key figure in French cinema. Comprising more than 40 films, the retrospective will be complemented by an exhibition at the Palais Clam-Gallas(Institut Français de Vienne) which will present vintage photographs and original posters from the Film Museum's collections while tracing Léaud's career over five decades. Director Serge Le Péron whose films are also programmed within the retrospective, will be a guest of the Film Museum and present at film screenings between April 18 and 20.
In the role of the bewildered boy Antoine Doinel in François Truffaut's classic Les 400 coups (1959), Léaud rocketed to fame at the age of 15. The following years saw him become the iconic performer of the French New Wave, thanksto his unconventional acting which epitomized the freshness and authenticity demanded by young French filmmakers. Truffaut cast Léaud mostly as a dreamer, including four other Doinel films which followed the character's development over the next two decades. Jean-Luc Godard preferred to cast him as a fashionably committed Bohémien in a series of famous mid-60s works. Léaud also played an important role in the masterpieces of Jacques Rivette and Jean Eustache which revolved around the protest movements of 1968 and the disintegration of their utopias. 
By this time, celebrated international directors such as Jerzy Skolimowski, Pier Paolo Pasolini, Glauber Rocha and Bernardo Bertolucci had already discovered Léaud – both as an actor and as cinephile point of reference. His status as cinéfils, a son of (modern) cinema, continues to define Léaud's career. Major auteurs such as Philippe Garrel, Luc Moullet, Raul Ruiz, Catherine Breillat, Aki Kaurismäki, Olivier Assayas, Bertrand Bonello and Tsai Ming-liang have done more than just cast him as a fascinating actor whose admittedly "unprofesssional acting" has its own special qualities. Through his bond to the New Wave he has also become the epitome of a certain type of filmmaking which is fed by a deep knowledge and love of cinema history – from his very first appearance as Antoine Doinel, where his obsessive passion for movies leads him to steal stills of Citizen Kane,right up to his most recent roles which continue to write film history in their own distinct ways – in France, Taiwan, or wherever.
Léaud was born into a "film family" (his mother an actress, his father a screenwriter), but he never had any professional training. However, the unwanted child with a penchant for art, day-dreaming, arrogance and lack of discipline would become the ideal choice for François Truffaut's autobiographically inspired first feature Les 400 Coups. Léaud's instinctive portrayal of the recalcitrant and fragile youngster has an irresistible immediacy and authenticity. His acting was to remain unprofessional in the best sense of the word; his proclivity for lovable affectations and his vivid facial expressions are as eccentric as they are disarming.
Léaud's role as Truffaut's alter ego Antoine Doinel led to an extraordinary conjunction of director, actor and character (up to L'Amour en fuite, 1979), one of the main reasons for the cinephile aura surrounding Léaud. Yet he fulfilled a similarly essential function for Godard (in his dandified embodiment of a politicized, confused youth, as in Masculin féminin and La Chinoise), whereas Jacques Rivette (Out 1) and Jean Eustache (from Les Mauvaises fréquentations, 1963, to La Maman et la putain, 1973), brought out the darker sides in his supposedly gentle personality.
Léaud's central role in French film culture soon led to international developments. He played a mad colonial representative in the African-agitprop film Der Leone Have Sept Cabeças (1970) by the exiled Brazilian Glauber Rocha; in Bertolucci's Last Tango in Paris (1972), he makes an appearance as the naïve spirit of cinephilia. Around this time, a stroke of genius by Luc Moullet gave him the lead in Une aventure de Billy le Kid / A Girl is a Gun as the most unlikely Western hero of all time. Léaud also owes his comeback, many years later, to a case of international movie love. After the end of the Doinel series, Léaud had disappeared from public view, with only intermittent appearances in films by Godard, Raul Ruiz (Treasure Island) and Catherine Breillat (36 fillette) – but he resurfaced when the Finnish film connoisseur Aki Kaurismäki gave him the brilliant role of a suicidally melancholic man in I Hired a Contract Killer (1990).
Since then, Léaud has reattained his status as an indispensable light on the firmament of cinema. Leading contemporary filmmakers have made use of his grumpy but irresistible charm, his curious mannerisms as an actor, and of his iconic aura in relation of film history. It is no accident that Léaud is picked so often to play artists or filmmakers – in films by Breillat and Philippe Garrel (1993), in Olivier Assayas' Irma Vep (1996) and Bertrand Bonello's Le Pornographe (2001). In Tsai Ming-liang's upcoming film Visages, he plays a director named Antoine who misses his doppelgänger François. Jean-Pierre Léaud and cinema history have become inseparable.
The exhibition Jean-Pierre Léaud – Citoyen du Cinéma will take place at the Palais Clam-Gallas (Institut Français de Vienne) from April 2 to May 8.
Related materials