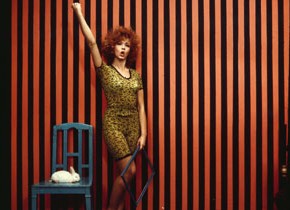 April 8 to May 4, 2011
The rediscovery of Dušan Makavejev, born in Belgrade in 1932, is currently underway in several countries. Of course, he was never completely forgotten: his modernist epic on Wilhelm Reich, WR: Mysteries of the Organism (1971) was regarded as an axiom of modern cinema upon its release and has continued to exert its influence ever since. But the actual richness of Makavejev's work, spanning more than four decades, is hardly known today, even by cinephiles. In collaboration with the Slovene Cinematheque, the Film Museum now presents his complete works for the first time in Austria, including three newly restored prints that the Film Museum has created for this occasion.
WR
was a watershed moment in Makavejev's career: the constant quarrels with the authorities escalated to full-blown confrontations, the "Black Wave" of Yugoslavian cinema (some of whose central works belong to Makavejev) was shattered. Under threat of imprisonment, he saw no other choice but to leave the country – he said he was sentenced to "forced labor abroad." With
Sweet Movie
(1974), he managed to create another international
succès de scandale;
but his much more subtle works of the 1980s, made in Sweden (
Montenegro
), Australia (
The Coca Cola Kid
) and the USA (
Manifesto
), never gained the acclaim of his earlier Yugoslavian work. It seems that the West mainly perceived Makavejev as a corrosive critic of State Communism, while his analytical genius and anarchic humor always reached far deeper than that. Whether in the "eastern"
Ljubavni slučaj
(Love Affair,
1967) or the "western"
Montenegro,
whether in
Nevinost bez zaštite (Innocence Unprotected,
1968) or
The Coca Cola Kid
, he always satirized ideological norms and established genres and images. But this quality was much more apparent to Western critics when it concerned their "official" ideological adversary. When the target of scorn became "us" (the West), critics declined to follow.
Makavejev's path to making films was similar to that of nearly all the other greats of Yugoslav cinema: he made amateur movies at local cinema clubs, proved himself with professionally made shorts and was finally given the chance to direct feature films. His career started in earnest in 1955:
The Seal
was a satire on the (unnatural) nature of bureaucracy – a dead man recalls all the seals that he came across in his earthly existence. Makavejev continued in a similarly cheerful vein:
Don't Believe in Monuments
(1958),
Educational Fairy-Tale
(1961) and
Parade
(1962) are fiercely mischievous reports on Yugoslavia's contemporary mores, while
Damned Holiday
and
Beekeeper's Scrapbook
(both 1958) ferret out all sorts of peculiarities from traditional folk culture. These brilliant shorts show Makavejev's singular talent: he makes the ordinary disturbing and reveals the surrealism present in (socialist) realism. 
When he completed his first feature film,
Čovek nije tica (Man Is Not a Bird),
in 1965, Makavejev was already a well-known quantity on the brink of international stardom. The equally lively and energetic follow-up,
Love Affair,
firmly established him on the map of modern world cinema. Still, he did not become an icon until his radical re-readings of history and politics in
Innocence Unprotected
and
WR: Mysteries of the Organism:
daring, penetrating and extravagant works using editing styles that, at the time, were completely his own. Obscure genre cinema collides with raw documentary materials, the Socialist classics are treated as comic strips, and the Brechtian example mutates into showy trash. Rarely since has Cinema been as stimulating and exhilarating, as sexy, as bold and mysterious at the same time.
Dušan Makavejev will be present for the first days of the retrospective and provide insights into his work in several public discussions. The retrospective is a joint project of the Austrian Film Museum and Slovenska Kinoteka in Ljubljana. With thanks to Dušan Makavejev, Jurij Meden and KulturKontakt Austria.
Related materials