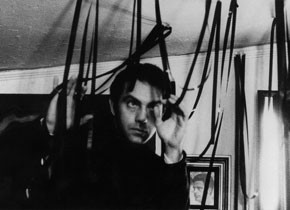 November 19 to 24, 2014

Gregory J. Markopoulos was twenty (and still a student at the University of Southern California) when he completed his first masterpiece, the one-hour Du sang, de la volupté et de la mort (1947-48). Influenced by surrealism and literary modernism, and along with Mara Deren and Kenneth Anger, he was one of the founders of the New American Cinema, the most significant movement in independent cinema after 1945. At the same time, that film marks the beginning of an individual course, as Markopoulos became one of the greatest formal inventors and innovators in the history of film: "A work formed in serious, radical creativity, employing what the Greeks called thrasos – fire, self-confidence, enthusiasm." (Harry Tomicek)

Born in Toledo, Ohio in 1928, and raised with the Greek language and traditions (he didn't speak English until he was seven years old), Markopoulos would follow his artistic goals with unprecedented rigor until his death in November 1992. Against any pigeonholing by generic terms such as "narrative," "underground", "avant-garde" or "art" film, he always vehemently upheld one motto: Film as Film.
Markopoulos was no stranger to cinematic storytelling – he attended lectures by Josef von Sternberg, observed Hitchcock and Lang at work and had contact with Cocteau and Godard during the fifties. But his own practice taught him that the deepest experiences available in cinema were to be found elsewhere: "Who can dare to imagine what a single frame might contain?" More and more, he realized the shape of his films directly during the filming process: composition, sequencing, montage, dissolves, multiple exposures – all of these processes (which the film industry usually delegates to an entire team), he accomplished himself, during the moments of filming.

The result is a cinema of true poetry, containing trance-like narratives such as Swain (1950) and Twice a Man (1963), as well as iridescent portraits of people (Galaxie) and spaces or structures (Ming Green, Gammelion, Sorrows), all made and released in the late 1960s when Markopoulos separated himself from the New York underground scene. His oeuvre of that period is characterized by an almost eerie sense of color and rhythm, and by ecstatic "chords" and clusters made of the shortest visual elements. At the same time, he searched for a utopian unity – a non-alienated relationship between life, filmmaking and film viewing.

Starting in 1967 and together with his partner, Robert Beavers (now the keeper of his estate), Gregory Markopoulos led a nomadic life marked by poverty, traveling between Italy, Belgium, Greece and Switzerland. He continued filming ceaselessly, but released no work after 1971. Instead he concentrated fully on that approximately 80-hour work which would sum up his artistic existence: Eniaios ("unity," "uniqueness"), created for a special performance in nature, at the "Temenos" near the village of Lyssaraia in Greece.

22 years after Gregory Markopoulos' death, the opportunities to see his films are still rare; the restoration and preservation of Eniaios is in progress, but far from complete. The Austrian Film Museum, with whom the artist had a long (and complicated) relationship, has collected his works for almost 50 years – and is proud to offer its international audience this retrospective of 26 works, the most comprehensive examination of Markopoulos' cinema to date.

The retrospective takes place in conjunction with the Vienna Art Week and was organized with the help of Robert Beavers who will attend all screenings. At the opening, curator Mark Webber will present his new book, "Film as Film: The Collected Writings of Gregory J. Markopoulos." On November 21, Beavers will present four restored acts from "Eniaios IV" and will speak about the ongoing Temenos project.
Related materials