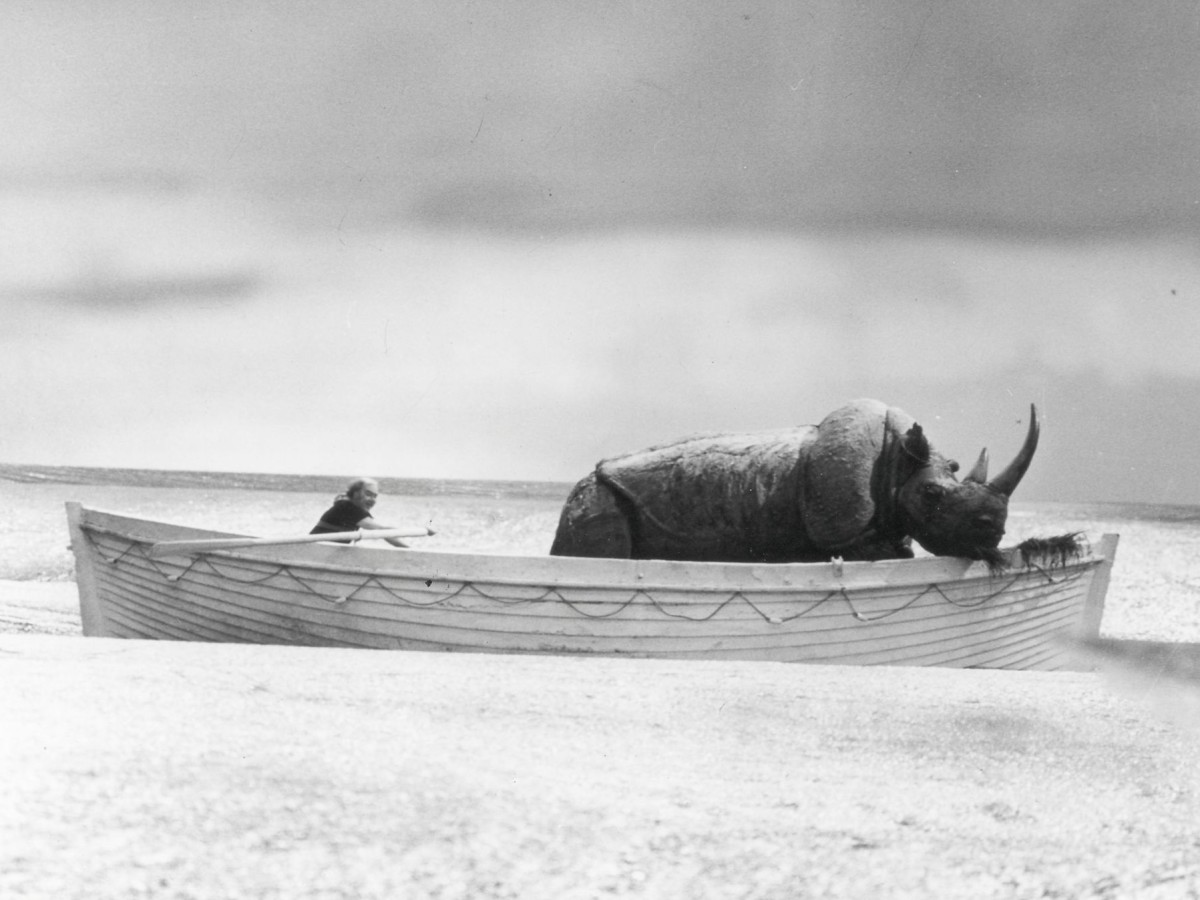 Federico Fellini / Ermanno Olmi
January 10 to February 28, 2019

We begin the new year with a juxtaposition of two of the most exceptional directors of Italian cinema. On the one hand, there is Federico Fellini (1920–1993), whose films La strada (1954) or La dolce vita (1960) made him one of the most famous filmmakers the world over. Fellini's style is so distinctive it even gave rise to a new word: Felliniesque – a fantastic exuberance of imagination that goes beyond the merely grotesque.

As counterpoint, we present the less popular, but no less exceptional work of the recently deceased director Ermanno Olmi (1931–2018). Some of his first feature films such as Il posto and I fidanzati already saw Olmi establish himself as a key figure of the awakening of Italian cinema in the early 1960s. Later on in his career, the director found international success and recognition with works such as the Cannes winner L'albero degli zoccoli (1978) or the Venice winner La leggenda del santo bevitore (1988), based on a Joseph Roth novel.

The difference in perception could lie in the fact that Olmi was (somewhat simplistically) considered a subtle chronicler of modest lives, while Fellini's provocative flamboyance established a largely recognizable "brand" in the global cinema market. However, first impressions can be misleading, and the same goes for this eye-catching contrast. Fellini's ostentatiously personal, often autobiographical approach is instrumental in his signature style; most of all in 8½ (1963) with Marcello Mastroianni as Felliniesque director, one of the most famous cinematic self-portraits. Olmi's work was just as personal, but in a self-effacing manner: "I found the ideas for my first films in myself. I was the young man in Il Posto and the worker who went to Sicily in I fidanzati." Olmi's great historical chronicle L'albero degli zoccoli sprang to life from the stories his grandmother used to tell him.

In their own ways, both Fellini and Olmi tried to break with the dominant mold of Italian Neorealism. Fellini started his career as screenwriter (mostly for Roberto Rossellini) in the thick of the movement. As director, however, he quickly reoriented himself in an individual direction in the following decade: The stylized allegorical story of La strada was dismissed as a "neo-abstract" break with reality by colleagues such as Luchino Visconti. The international breakthrough made it possible for Fellini to dive head first into opulent pictorial broadsheets; heedless of narrative norms, he reveled in mythological, satirical and individual spectacles. From the antiquity of Satyricon (1969) to the present of Roma (1972), from the withering deconstruction of Casanova (1976) to the attack on the soulless (Berlusconi) world of television (Ginger e Fred, 1986), from bittersweet reminiscences of youth (Amarcord, 1973) to playful self-portrait (Intervista, 1987): Fellini orchestrated himself as author cum animal trainer of an overflowing cinema circus (in I clowns in 1970, he emblematically equated the two).

Olmi, on the other hand, followed the strategy of subtle revocation even when it came to the adaptation of neorealist aesthetics. What is more, he did so not only as author and director, but often as his own cameraman and editor. He found his way to filmmaking in the 1950s when, working for an electric company, he started making short in-house documentaries about the activities and lives of workers. Olmi's feature-length debut Il tempo si è fermato (1959) held onto these documentary roots as he employed non-professional actors and used original locations in a "Neo-Neorealism" stripped of all narrative and sentimental compromises with an unobtrusive spiritual effect. In outlining the worlds of his characters with precision and without bias, he combined a humanist approach with the experience of a new (economic) era and the accompanying alienation, clearly visible in the Kafkaesque office routine of Il Posto.

Olmi and Fellini almost found their way to each other once: Olmi's independent production company 22 dicembre, founded in 1961 together with Tullio Kezich, who would go on to write an award-winning biography of Fellini, set out to offer artistic freedom to young directors. Fellini, who was pursuing similar goals, briefly considered joining, but ended up taking a different path. Even Olmi changed horses after this innovative, but short-lived project failed. His following film, the almost ethnographic pope biopic E venne un uomo (1965), was his first foray into big production and work with star actors.

Both Fellini and Olmi bear the marks of Catholicism. While Fellini worked them off with mixed feelings in his films (some were regarded as deeply religious, others as blasphemous), Olmi followed his Christian convictions, which fortified his outsider position. He was too Catholic for the radical left and too progressive for the orthodox Catholics. In the end, his work remains as indomitable and complex as Fellini's. Regardless of whether Olmi is making an Asian pirate film with Bud Spencer (Cantando dietro i paraventi, 2003) or reminding us of the value of charity at a time of refugee crises (Il villaggio di cartone, 2011), his are the films of a free man.

The prints of Ermanno Olmi's short films are not available at the time of the restrospective and will be shown at a later time as a "Da capo" program.

With special thanks to our main partner Cineteca Nazionale and the Istituto Italiano di Cultura di Vienna.