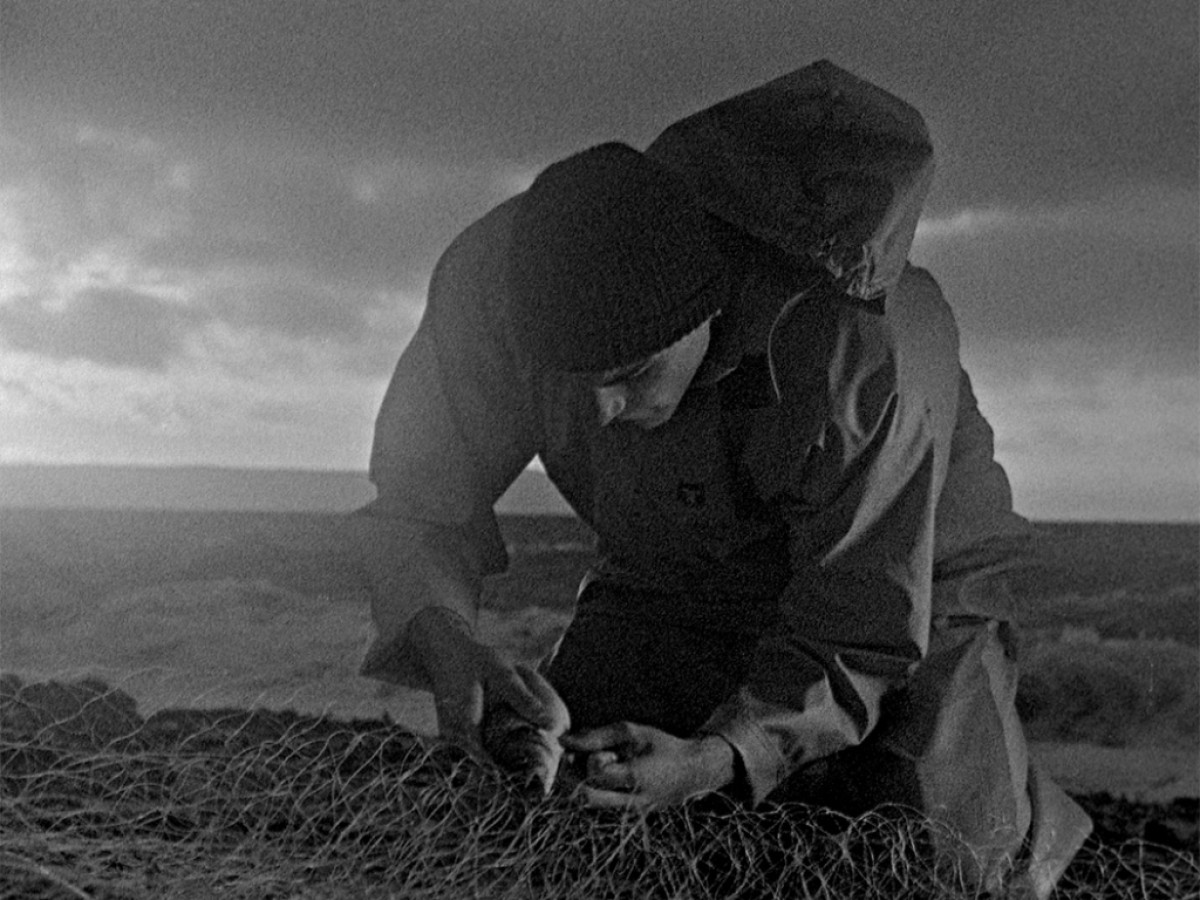 October 18, 2020
Mark Jenkin suddenly blazed onto the European filmmaking stage in 2019 with
Bait,
a low-budget drama which premiered to enormous critical and popular acclaim at the Berlinale Forum and nearly a year later was awarded the BAFTA Award for Outstanding Debut by a British Writer or Director.
But this is the kind of seemingly "overnight" success story which has actually been decades in the making. Along with an impressive stack of shorts and mid-lengthers, the prolific Jenkin has four previous hour-plus fictional works to his name –
Golden Burn
(2002),
The Rabbit
(2004),
The Midnight Drives
(2007) and
Happy Christmas
(2011)– several of which played to warm receptions on the festival circuit. Indeed, the latter's humanism was directly compared to the work of Jean Renoir by
Empire
magazine.
Jenkin was, however, eligible for the BAFTA as
Bait
was his first project to obtain UK theatrical distribution. Born in 1976 and a native of England's rugged south-western peninsula Cornwall – an ancient, remote land with its own Celtic-influenced language and culture – the writer-director thus semed to materialise fully formed as an artist with an utterly distinctive and uncompromised analogue sensibility.
On Christmas Day 2012 Jenkin devised and typed out "Silent Landscape Dancing Grain 13" (aka SLDG13) a semi-serious manifesto of 13 rules – including a stipulation that films should be realised "with a minimum of fuss" – which has scrupulously followed ever since.
"If it's not hard work and you're not leaving part of yourself in it then it's not worth doing in my opinion," Jenkin has said. "Sometimes I'll do something with a workflow that is incredibly demanding and time-consuming and the final result may be indistinguishable from how it would have been if I'd taken a more painless modern or digital route ... but there is a difference, I don't always know what it is, maybe it's imperceptible but it is there and people recognise it and they connect with it. For me it's bordering on transcendental."
He shoots with a clockwork Bolex camera on 16mm monochrome film, which he then hand-develops (reportedly in an antique Bakelite rewind tank), resulting in all manner of glorious imperfections, scratches and "pops." The soundtracks are added later, and have a deliberately artificial air that magnifies the disorientingly impressionistic stylisation of the visuals.
The results are entirely their own beast, with their own irresistible atmospheres and tactile textures. But they could perhaps be described as a delirious mashup of Murnau, Brecht, Jarman, Cassavetes, Godard, Ben Rivers and fondly-remembered BBC supernatural tales of the sixties and early seventies.
Jenkin who teaches film-making at Falmouth University in his home county is thus probably the most singular and distinctive voice to emerge in British narrative cinema since Terence Davies in the late 1980s. Like the Liverpool-born maestro, Jenkin hails from a place and a socio-economic stratum far removed from the London artistic elite; his proudly personal perspective audaciously combines a self-devised aesthetic stance with an acute political sensibility and, crucially, a streak of offbeat, deadpan humour. From Cornwall to the world! (Neil Young)
In cooperation with Crossing Europe Filmfestival Linz



Discounted ticket

for students with an annual membership at the price of EUR 3,00.
Related materials
For each series, films are listed in screening order.