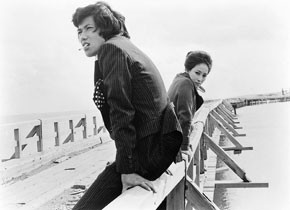 Art Theatre Guild. Japanese Independent Film, 1962-1984
October 4 to 30, 2003
 
This year's joint Retrospective of the Film Museum and the Viennale (Vienna International Film Festival) is dedicated both to a country with a major film history as well as a distinctive era of modern cinema: Japan and the new wave movement of the 1960's and 70's. The show, developed and curated by Roland Domenig, gives fascinating insights into the cultural and political upheavals Japan went through around 1968.
 
The production and distribution company ATG (Art Theatre Guild) was home to the independent Japanese cinéma d'auteur as of the mid-1960's. While the film studios which dominated the market relied on conventional formulas and were very reserved towards any new ideas, ATG propagated an innovative cinema of diversity. In these films, many of which are still unknown in the West, the social and political turmoil of the 1960s and 70s serves a backdrop for the new generation's artistic endeavours. The fascinating visual and narrative traditions of Japan are applied to contemporary themes: a rebellious youth culture, terrorism and attacks on the State, biting criticism of "gangster" capitalism, and extreme forms of sexuality.
 
ATG was founded in 1961 as a distribution company with its own chain of cinemas. Aside from classics which Japanese audiences had not yet seen, such as films by Eisenstein, Buñuel, Fellini, Welles and Bresson, ATG also distributed current films of younger directors like Godard, Truffaut, Cassavetes, Tarkowski, thus making a substantial contribution to a new awareness of film history. In addition, independent films by Japanese directors, such as masterpieces by Kaneto Shindo, Yukio Mishima, Seijun Suzuki and Juzo Itami, were distributed by ATG as well.
 
In 1967, ATG started to produce its own films, and within a short span of time it had become the most important production house for art films. Initially, the focus was on the directors of the Japanese Nouvelle Vague, who found a new home with ATG after breaking away from the conservative branches of the film industry. Thanks to the Art Theatre Guild, many principal works of this "New Wave" were made possible: Nagisa Oshima's Death by Hanging; Yoshishige Yoshida's Eros + Massacre; Double Suicide by Masahiro Shinoda; Inferno of First Love by Susumu Hani and Shohei Imamura's A Man Vanishes. The importance of ATG's role in supporting these directors and ushering in a new era in Japanese film cannot be overestimated.
 
ATG was based on a unique production system. Projects were selected for realization solely on their artistic merits by an independent jury composed of leading film critics. The budgets were small; half of the budget was supplied by the director, who had free rein in the realization of his or her vision. Operating by this method, ATG produced a series of extremely radical films by Toshio Matsumoto (Funeral of Roses) or Akio Jissoji (This Transient Life), as well as pivotal works by Shuji Terayama, the star of the Japanese avant-garde, for whom one of the spotlights of this retrospective is reserved.
 
After the heated political atmosphere which permeated the early films of ATG had subsided, the Art Theatre Guild devoted more and more attention to younger filmmakers and helped directors like Kazuhiko Hasegawa (Murderer of a Youth) or Sogo Ishii (Crazy Family) create their first major feature films. ATG made it possible for visionary filmmakers like Koji Wakamatsu (Ecstasy of Angels) to break out of the sexploitation cinema ghetto and for long-standing studio directors like Kon Ichikawa (The Wanderers) or Kihachi Okamoto (Human Bullet) to realize projects they had dreamed of making for years.
 
In 1986, ATG ceased its activities as a film production company, and in 1992, its distribution activities also came to an end. New producers, distributors and cinema operators continued along the same path of making uncompromisingly independent films. 
 
These contemporary Japanese films, which have been included on a regular basis in the Viennale programmes since the early 1990's, could not have come about without the rich tradition of ATG to which this year's Retrospective is dedicated.
 
The Retrospective is the first major survey of ATG cinema outside Japan. After Vienna, the show will travel to other European and American cities.
 
On October 20 and 21, as part of the Retrospective, an international Symposium to be held by the Japanese Academic Study Group on "Changes in Japanese Cinema in the 1960's and 1970's" will take place at the Film Museum. A catalogue is being published on the occasion of this show.
Related materials