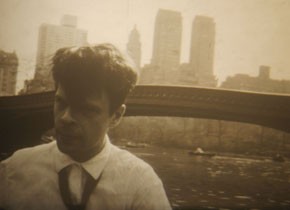 Robert Frank. Filmmaker
The 25 films and videos of the outstanding photographer Robert Frank are among the best-kept secrets in film history. His début film, the beatnik ode Pull My Daisy (1958), is considered a classic, and his three feature-length films – the fascinating experiment on schizophrenia, Me and My Brother (1968), the infamous Rolling Stones documentary Cocksucker Blues (1972) as well as the musical road movie Candy Mountain (1987) – have all received due attention, but the actual core of his works remains to be discovered.
These consist primarily of intensely personal film essays which follow a fleeting, highly contemporary aesthetic and revolve around topics which appear to be inconsequential and trivial. One can discover a unique outsider's view of the possibilities of film in these works. In November, the Austrian Film Museum will be showing Robert Frank's complete film and video works. 
Born in Zurich in 1925, Frank studied French and trained as a photographer in Switzerland before emigrating to New York in 1947, where he first worked as a fashion and art photographer. His collection of photographs "The Americans" (1958) created a stir with its dark contrast to the stereotypical view Americans had of their country. Immediately following its publication and on the verge of fame, he switched his focus to cinema, directing Pull My Daisy together with Alfred Leslie (and with Jack Kerouac's melodious offscreen commentary); here one can already detect the mixture of fiction and documentation which characterizes Frank's work. His career followed an erratic and mostly private path, with the legendary uproar created by Cocksucker Blues constituting the only exception.
In 1970, Frank retreated to the remoteness of Nova Scotia with his family and lived a retiring life, once again devoting himself to photography now and then. With the exception of a few commissioned works (which more often than not ended up being shaped into unmistakably personal films, such as About Me: A Musical from 1971), Frank's film oeuvre developed along the lines of autobiographical sketches, as in Conversations in Vermont (1969) about a dysfunctional family, the diary-work Home Improvements (1985) and the touching essay of recollections, The Present (1996), a work which is unique in its radical openness, its unobtrusive style and its overwhelming melancholy.
A joint presentation with Sixpack Film, Diagonale and Graz 2003