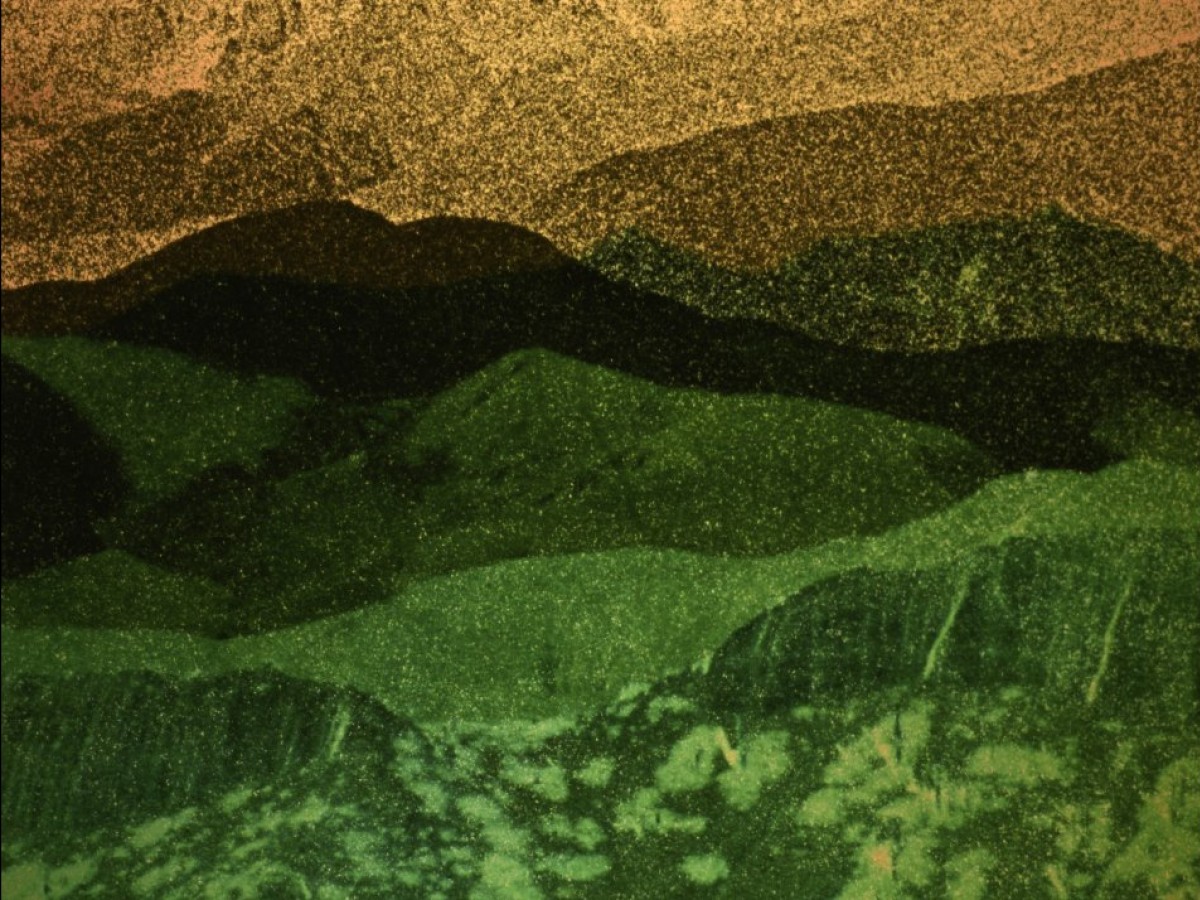 Short Film Program 8: A Radiant Earth 
Happy Valley
Simon Liu. HK, 2020, 13 min
Hong Kong as you've never seen it before and as perhaps no one will see it again, given recent upheavals in the former British colony. New York-based Liu, who spent several formative years in HK, returns with his 16mm camera to create a freewheeling, enchantingly disorienting kaleidoscope of images, sounds, and moods, homing in on the more bizarre and unlikely manifestations of the city's crisscrossing cultures to immerse the viewer in a unique urban space. The area's turbulent political context is poetically evoked, poignantly foreshadowing the greater turbulence that would soon follow. (Neil Young)
Inner Outer Space
Laida Lertxundi. EE, 2021, 16 min
Cinema has the power to confuse all the presentational categories of museums and galleries. Static, pictorial collage becomes montage in time; what would be a large work of installation art can be reduced to a small, childlike maquette. Laida Lertxundi is deeply aware of this unceasing transformative potential. In
Inner Outer Space
, she assembles representations of the sea – drawn, photographed, framed, projected, juxtaposed, heard as sound – and combines them with fragments of a strange, inconclusive dialogue between women. The credits appear halfway through, so don't miss the rest! (Adrian Martin)
earthearthearth
Daïchi Saïto. CA, 2021, 30 min
Daïchi Saïto's
earthearthearth
is a landscape film, depicting the mountains and plains of Chile and Argentina. But to call it a landscape film is somewhat deceptive. Using a series of long shots, and then bipacking positive and negative images into an optical printer, Saïto creates a work of bold abstraction. Like so many before him (Cézanne, Turner, O'Keeffe, Brakhage), Saïto coaxes complex shapes and patterns from the natural environment, hills and skies rendered in electric hues of lilac, teal, and royal blue. Scored by experimental musician Jason Sharp,
earthearthearth
is a pulsing, painterly tour de force. (Michael Sicinski)
Parenthèse
Fabrice Aragno. CH, 2021, 7 min
Images of crowded subways look archeological by now. A sight that used to be familiar ends, and a new world appears.
Parenthèse
explores a few moments in the world between two moons: animals move freely through space, light changes by the hour, the wind interacts with trees and the grass. With humans almost retired, animal and vegetal perception take over. The clouds take over too, just before it is necessary to take to the streets again, where humans have to go back to their ways of making history. (Lucía Salas)
Un bananero no es casualidad
Luiza Gonçalves. ES, 2021, 10 min. Spanisch/Französisch mit engl. UT
Luiza Gonçalves, a self-proclaimed tourist in Donostia-San Sebastián, sets out to investigate its booming industry of fertility clinics, but she is distracted by something odd: the equally fertile presence of banana trees. What is the geopolitical history that brought them here and how are they maintained today? Phone calls to not-very-helpful local authorities provide a droll soundtrack. With its grainy black-and-white photography, the film reflects the influence of the exploratory, eclectic pedagogy Gonçalves experienced at the Elías Querejeta Zine Eskola in the same city. (Adrian Martin)
With
Laida
Lertxundi
in attendance