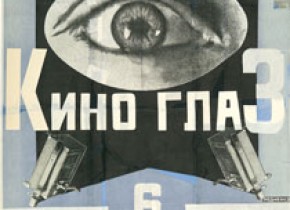 Digital Formalism: The 'Poetika Vertoviana' between the Archive and the Digital Realm
January 10 and 11, 2008
Conference and Screening
Digital Formalism: The Vienna Vertov Collection is a project funded by the Vienna Science & Technology Fund within the "Five Senses" Call 2006. The 3-year project will start on February 1st, 2007. The project partners are the Austrian Film Museum, the Department of Theatre, Film and Media Studies, Vienna University, and the University of Technology in Vienna.
 
The international conference in January 2008 aims at a grounding of our theoretical and methodological approach. It is dedicated to a (re-)construction of what we have termed a "Poetika Vertoviana", while discussing various concepts such as the "archive", the "interval", "digital", "data based film analysis", all contextualizing Vertov's filmmaking and the "Digital Formalism" project mission.
 
With its media-archaeological approach, "Digital formalism" wants to revise the concept of the Digital as well as the impact of Russian formalist film theory. Rather than prolonging the story of the triumphal procession of digital industries, we focus on another 'digital revolution' which took place in the early 1920s, not long after the invention of the cinematograph, when the new realm of cinematic representation and the profoundly 'analogue' environment of images it had provided were deliberately struck by 'digital' attempts in taming the prolific imaginary effects generated by cinema.
 
These rigorous methods of organizing, mapping and regulating cinematic images, these formulae formalizing and governing the 'living matter' in the long run (and looked upon from a broader cultural and epistemological perspective) proved to be the aesthetic essence of Soviet avant-garde art.
 
This confrontation of two genuinely different modes of generating and processing knowledge, the imaginary and the symbolic, has been described either as a permanent crisis of representation (as in Bernhard Siegert's Passages of the Digital) or as a clash of cultures – the culture of imagination, visibility, and sensuality on the one hand, and the culture of figures, curves, statistics, and calculability on the other.
 
The revolutionary, futuristic, and utopian potential of Soviet avant-garde art displayed itself exactly on the borderline between these two cultures, with a tendency towards the latter – one might even talk about a temporary shift from "cine-eye" to "cine-diagram" to "cine-graph". We therefore want to encourage a slight shift also in the research focus connected with this confrontation of images and symbols, representation and codification, semantic content and syntactical order, analogue and digital interpretation of images.
Related materials