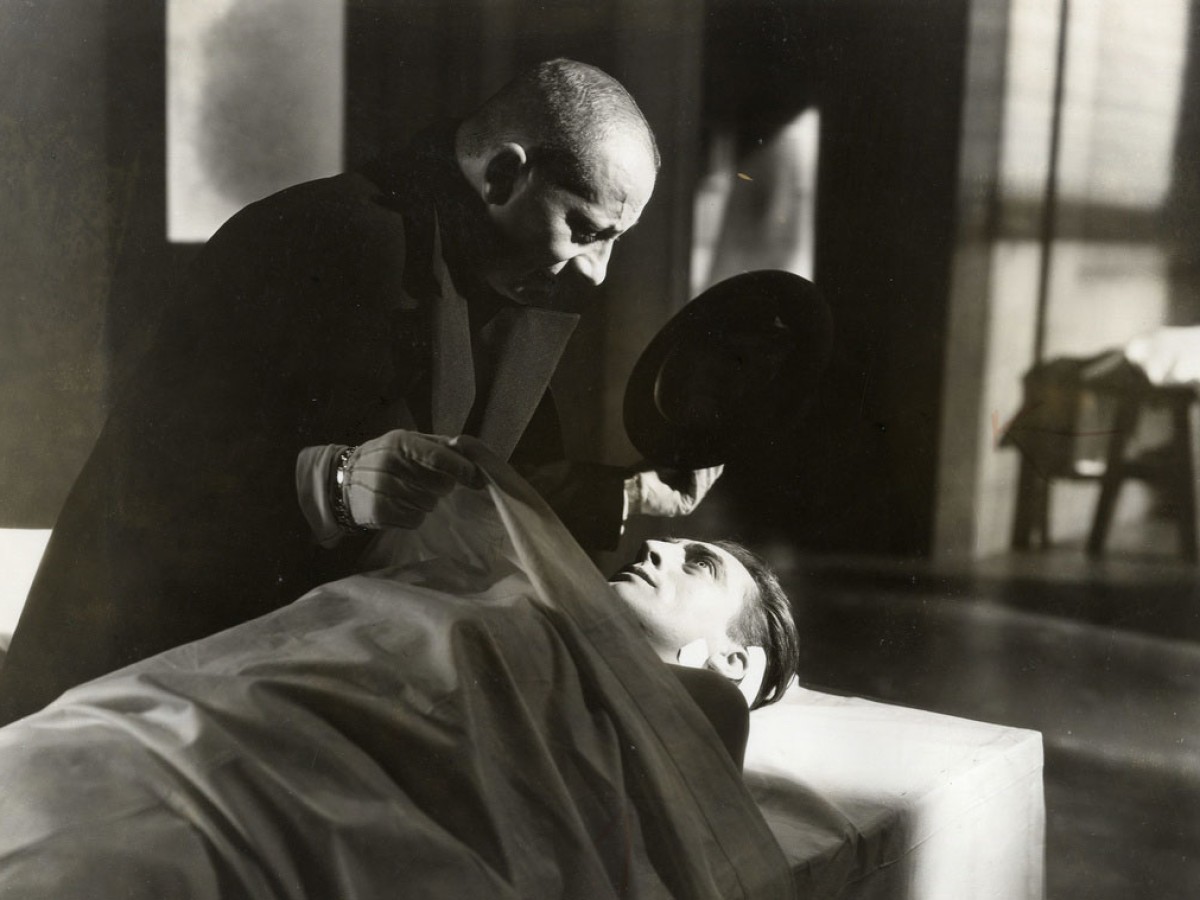 Double Feature
The Man They Could Not Hang (1939)
Studio: Columbia; Regie: Nick Grinde; Drehbuch: Karl Brown, George Wallace Sayre, Leslie T. White; Kamera: Benjamin H. Kline; Darsteller: Boris Karloff, Lorna Gray, Robert Wilcox, Roger Pryor, Don Beddoe, Ann Doran, Joe De Stefani. 35mm, sw, 64 min
The Crime of Dr. Crespi (1935)
Studio: Republic; Regie: John H. Auer; Drehbuch: John H. Auer, Lou Goldberg, Edwin Olmstead nach The Premature Burial von Edgar Allan Poe; Kamera: Larry Williams; Darsteller: Erich von Stroheim, Harriet Russell, Dwight Frye, Paul Guilfoyle, John Bohn, Geraldine Kay, Jean Brooks. 35mm, sw, 63 min*
"Ein B-Film-Regisseur muss mehr Tricks kennen als Harry Houdini es tat", meinte Nick Grinde, "und er muss sie sofort aus dem Hut ziehen – nicht erst nach dem Mittagessen." Grinde wusste nur zu gut, wovon er sprach. Sein unterhaltsames Horror-Feature
The Man They Could Not Hang
zeigt Boris Karloff in einer seiner besten Darstellungen. Wie viele B-Filme enthält auch dieser Verweise auf seine eigenen Produktionsbedingungen. Ein Zeitungsredakteur weist seinen Reporter an: "Machen Sie es bizarr, machen Sie es dramatisch und machen Sie es bissig!" – Solche Worte dürfte auch Grinde öfters von den Studios gehört haben. Als
Dr. Crespi
verkörpert Erich von Stroheim einen Arzt, der sich aus Eifersucht mit einem perfiden Plan am Nebenbuhler rächen will. Ihm zur Seite steht der aus Horrorklassikern wie
Dracula
und
Frankenstein
bekannte Dwight Frye, das Drehbuch ist von Poes
The Premature Burial
inspiriert. Seine notorische Kompromisslosigkeit kostete Stroheim zwar seine Karriere als Regisseur, als Schauspieler wurde er jedoch in B-Filmen weiterhin gerne engagiert und adelte diese durch seinen originären, stets etwas bedrohlich wirkenden Alte-Welt-Stoizismus. Auch der Regisseur entstammt der Österreichisch-Ungarischen Monarchie: John H. Auer. (C. F./H. G.)
*35mm preservation print courtesy of UCLA Film and Television Archive
Aus dem Katalog zur Retrospektive:
Written by Karl Brown, for years a cameraman for D.W. Griffith (he also tried directing, not without success, before settling on writing), and directed by the affable Nick Grinde (who once wrote, "The B director has to know more tricks than Harry Houdini did, and he has to pull them out of his hat right now
–
not after lunch"), this ingenious and entertaining film is the vehicle for one of Boris Karloff's best performances. Everything that happens in the film is fun and interesting, and not a moment is wasted. The film ends with an unanswered question hanging in the air; this ending comes, unfortunately, too soon (interrupting Karloff's plan of serial revenge, which has the full support of every viewer of the film), but in that untimeliness a bleak and awful judgment about the finality of existence is expressed in an ideally dry and succinct way. Like all B-movies,
The Man They Could Not Hang
is a commentary on its own production. The newspaper editor instructs his reporter
–
"Make it weird, make it dramatic, and make it snappy!"
–
in words Grinde and Brown might have heard in a meeting with the head of their unit. (Chris Fujiwara)
After his tragic fall from grace as a visionary but notoriously uncompromising director, Erich von Stroheim transitioned to a prolific but poignant career as an actor who brought a menacing Old World stoicism and indelible presence to his best roles, even in otherwise forgettable B-films. The Viennese educated Hungarian émigré John H. Auer gave Stroheim one of his memorable early roles as the titular Dr. Crespi, a venerated surgeon nursing a wounded heart and a festering jealousy of the rival surgeon who stole his girl. The presence of Dwight Frye (Reinfeld in Browning's
Dracula
and Dr. Frankenstein's assistant in Whale's iconic adaptation) signals an alignment with the then popular Gothic imbued horror films, a connection underscored by the film's source in one of Edgar Allan Poe's lesser known buried-alive nightmares. Rather than a dark castle or dungeon,
The Crime of Dr. Crespi
is set largely within a white-on-white clinic transformed by Expressionist shadows into a dramatic stage for Von Stroheim's fiendish plot to exert a cruel revenge. Auer's independent production was picked up by the fledgling Republic as its first release and the first of many genre films Auer would direct for the studio. (Haden Guest)