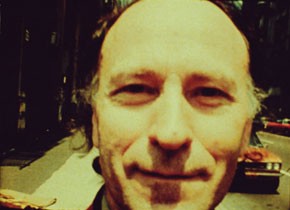 April 5 to 29, 2013
Jonas Mekas, poet in exile, was born in Lithuania in 1922. In his second life he became the godfather of American independent cinema – and one of its central figures. One can only speculate what might have happened had Mekas reached Vienna as planned after fleeing Lithuania in 1944. Instead, he and his brother Adolfas were deported to a labor camp near Hamburg. After the war, Mekas lived for several years in the Allied Displaced Persons Camps, including those at Wiesbaden and Kassel, where he had the opportunity to study: Philosophy (at Mainz University of Mainz), German and English literature – and the cinema.

Poetry and writing were Mekas' first, nearly fated, calling. His contributions to an underground anti-Nazi newspaper forced him to leave occupied Lithuania; an anti-Stalin poem from his youth prevented any possibility of returning to communist Lithuania. The deep longing for the lost paradise of his youth became the driving force, the myth behind all of his later work. Mekas' arrival in New York at the end of 1949 solidified his feeling that he would be eternally displaced and that his expressiveness as a poet would from then on be constrained. Film and its very different "language" offered him a new home – and the chance to be a different kind of poet.
But Mekas first emerged as an organizer, as a promoter of that nation of independent filmmakers, who he defended with great energy against the "occupying forces" of commercial cinema – as a critic, presenter, distributor, archivist, magazine publisher, and fighter against any and all censorship. As long as the list of institutions that he (co-)founded is the list of filmmakers he supported: Ken Jacobs, Jack Smith, John Waters, Martin Scorsese, Jim Jarmusch, Harmony Korine ...
It would take two decades before Mekas could present his own film work as confidently as he did others. After arriving in America, he was Lost Lost Lost – although completed in 1976, this film is in some way Mekas' first: it was filmed mostly from 1950 to 1963, a time when his ideas about cinematic truth were still strongly shaped by documentary film (with excursions into narrative and radically political theater, such as Guns of the Trees and The Brig). Over the course of 25 years, Lost Lost Lost developed into something other than realism. From a planned documentary about displaced persons, it evolved into a film about the search for a new home and a personal style: Henceforth, Mekas would only make "Home Movies," "Diaries, Notes and Sketches." And he made these not as a filmmaker or director, but rather as a filmer: "one who films, in the chosen moment, without a plan, selective, responsive, reactive, allowing form to emerge spontaneously, wed to the fleeting moment. A glimpse of Mekas vibrates, breathes, dances, twitches back and forth, changing color at breakneck speed like a time-lapse chameleon and changing its consistency and form like an unknown cartoon character." (Harry Tomicek)
"I make home movies – therefore I live," Mekas says in his first masterpiece, Walden (1969). In urban nature and in the community of friends Mekas rediscovers Thoreau's utopia, a faint echo of his Lithuanian homeland. "This is not a documentary film," he often writes in his films, followed by: "This is not a political film." And yet these films are always both – in their radically subjective concept of reality and in their creation of a counter-reality that is made up of fragments of everyday life. "I celebrate what I see" – and also that which he hears and reads, thinks and remembers. The (potential) loss of these fleeting moments is an underlying force in all his films. 
In Reminiscences of a Journey to Lithuania (1972), Mekas re-uses material from his early years in the U.S., now contrasted with images from his 1971 return to Lithuania (and a longer visit to Austria). Mekas' childhood and pre-war Lithuania cannot be restored, and he cannot stay there either. A double loss. In Paradise Not Yet Lost (1979), Mekas' wife and small daughter serve as a kind of compensation: through the girl he tries to recreate his own childhood, but loss catches up with him: the "fragments of paradise" shown in the film are as unattainable for the child as Lithuania is for Mekas. This double movement has remained true for Mekas' work to this day: We walked – we walk – we walked – we will never walk again like this.
In their dense portrayal of loss and happiness – as when Mekas captures a blizzard in New York or the ebb and flow of Central Park – these films and videos are full of poignant beauty. They also flicker against the backdrop of a dark, invisible horizon which is indicated by Mekas' epic 2000 masterpiece: "As I Was Moving Ahead Occasionally I Saw Brief Glimpses of Beauty." 

The retrospective, with Jonas Mekas in attendance, comprises more than 40 of his film and video works. Many of these are being shown for the first time in Austria. A new brochure, published by Synema, includes previously unpublished texts by and about Mekas. Complementing the program is an exhibition of photographs and new video installations by Mekas, several of which refer to his close Austrian friends Peter Kubelka, Hermann Nitsch and Raimund Abraham (starting on April 9 at Krinzinger Projekte, Schottenfeldgasse 45, 1070 Vienna). The project is being curated by Christoph Gnädig and presented with kind support from the Lithuanian Embassy in Vienna.  
Vienna-based author Lucas Cejpek has kindly allowed us to publish a text (
PDF
) he created during Jonas Mekas' stay in Vienna in April 2013. (Copyright by Lucas Cejpek and Geoff Howes)
Related materials