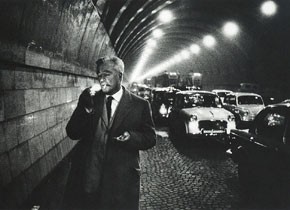 January 9 to February 12, 2015
Sixty years ago, Vittorio De Sica was one of the most famous and admired filmmakers in the world – and a kind of synonym for the global success of Italian neo-realism. In 1948, Sciuscià (Shoeshine) was honored with a special Oscar at the 20th Academy Awards. Two years later, another followed for Ladri di biciclette (Bicycle Thief). In 1951 De Sica won the Grand Prix at Cannes with Miracolo a Milano (Miracle of Milan) and in the 1952, Bicycle Thief took first place in the original Sight & Sound poll of the ten greatest films of all time. At the same time, De Sica was considered politically sensitive – Giulio Andreotti's saying about how one's laundry should not be aired in public was coined in reference to De Sica's films; his high esteem abroad was not appreciated by the Italian conservatives.
 
Peter von Bagh used to praise Shoeshine to his students as the most "communistic" film ever. In that film, as well as in the later Bicycle Thief and L'oro di Napoli (The Gold of Naples, 1954), one can sense that De Sica, born into poverty in 1901, knew what he was talking about: he was aware how much loyalty equaled how many beatings with a belt, and how much bread it takes to turn a hungry man into a traitor to his neighbor, and thus to his class.
 
Today, De Sica is seen as a kind of curiosity of film history: a giant from a period which we seem to have "overcome." With the gradual disappearance of the notion that cinema might provide a moral or social service, his humanism has become suspect, as was also the case with other beloved auteurs of the first postwar decade (for example, René Clair and Robert Flaherty, two directors who were also on the first Sight & Sound list). In De Sica's work there is something shining, decisive, and absolute, that does not easily fit today's nebulous, ambiguity-obsessed vision of reality and its representation, which we owe to modernism. To love De Sica means that one is open to having a film tell us something – something that can help change things.
 
De Sica was always a popular filmmaker in the noblest sense. In contrast to Visconti and Rossellini, he was always a directing professional, a "jack of all trades" who knew how to adapt to genres and fashions as he encountered them. This served him well and today constitutes much of his charm. In many of his works from the 1960s – which are generally considered to be the era of his decline – De Sica was just as magnificent as in the preceding decades, as can be seen in the fabulous melody of La ciociara (1960) and the polished elegance of his episodic masterpiece, leri oggi domani (1963, another Oscar); in the hysterical rage of Il giudizio universale (1961) and the vicious sarcasm of Il boom (1963); in Un mondo nuovo (1966), his shimmering attempt at a New Wave film (wildly flirting with homophilia and therefore brutally censored), and finally, in the brutal melancholy of his homage to Giorgio Bassani, Il giardino dei Finzi Contini (1970, his fourth Oscar and a Golden Bear from Berlin). There is much still to learn from De Sica – but to see his genius properly it is best to separate oneself from the primacy of neo-realism.
 
One should begin this process with De Sica's work as an actor – because that is what De Sica was foremost. He started in the theatre, primarily in boulevard dramas. To quickly sketch character types and then just as quickly skewer them was his specialty: two or three gestures or facial expressions were all that was needed. Mario Camerini discovered De Sica for the movies and during the early era of talkies turned him into a quintessential representation of the petit-bourgeois in fascist Italy. Camerini also allowed De Sica access to the path of filmmaking. Starting in 1940, De Sica not only began to direct but also had increasing authorial influence on films where he was only credited as an actor.
 
Some of his contributions as a performer stand out – whether for Roberto Rossellini (as the Generale Della Rovere), Max Ophüls (Madame de...) or for the masters of Italian postwar comedy such as Dino Risi, Luigi Comencini, Mario Monicelli, or Luigi Zampa. For the most part however, De Sica took whatever roles came his way: thanks to his passion for gambling and his (in)famous double-life with two families for whom he cared, De Sica was in constant need of money. There are numerous works in which De Sica appears in only a few scenes, yet his characterization carries the day. Featuring fearless mugging and notes sung off-key, but all of it performed with such an exact sense of rhythm and such precise gestures that one cannot watch without joyous amazement. All this continued right up to his death in November 1974 – a year during which De Sica still worked on several movies. One can truly call this: torn from life.
 
Organized with the support of the Italian Cultural Institute in Vienna, Cinecittà Luce and the Cineteca Nazionale, the retrospective presents 21 films directed by Vittorio De Sica between 1941 and 1970, as well as 13 of his works as an actor. Co-curator Olaf Möller will introduce several programs and hold a course on De Sica at the University of Vienna.