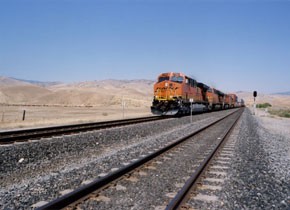 DVD-Release
James Benning: casting a glance | RR
In June, the Austrian Film Museum will continue its publication of works by the American independent filmmaker James Benning. Following our first 2-Disc-DVD – including two of his canonical films from the 1980s, American Dreams and Landscape Suicide – we now present his two majestic works casting a glance and RR. Shot back-to-back over a period of two years and premiered in 2007, they marked Benning's farewell to analogue filmmaking.
 
In casting a glance James Benning offers his paean to Robert Smithson's legendary "earthwork" sculpture, the Spiral Jetty. With RR, Benning's homage to the American railroad, the filmmaker brings an era to its close by going back to cinema's roots. As meditations on time, space and culture and as irresistible acts of observation, they jointly constitute the profound "last words" on the film medium by one of its most singular innovators. This 2-disc set presents both films together with rare audio interviews in which Benning recounts the experience of making his "last" films and gives unique insight into his creative methods.
Related materials