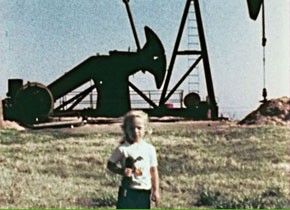 James Benning
American Filmmaker
November 1 to 30, 2007
 
James Benning, one of the most fascinating figures in US independent cinema since the 1970s, has long been considered a "filmmaker's filmmaker". Some of his most recent works, such as the California Trilogy, 13 LAKES or TEN SKIES, have established his reputation as a master of "landscape films", but a large portion of his earlier oeuvre is hardly known at all.
 
With the first-ever presentation of his entire work and the publication of a comprehensive monograph, the Austrian Film Museum offers a rich journey across the "United States of Benning": one man's radically personal version and vision of America. Mr. Benning will be in Vienna during this Retrospective. His newest production RR (2007), an idiosyncratic film about trains and the American West, will receive its world premiere in the framework of the show.
 
Benning, born in Milwaukee in 1942, returned to the University of Wisconsin in 1972 to take up film studies after having completed his mathematics degree. In this early phase of his creative work he was still searching for the "right" form of artistic expression, making several shorts which investigated both the conventions of Hollywood cinema and the established repertoire of the avant-garde.
 
By the mid-1970s, his own development had crossed paths with a significant movement in the American avant-garde: For a while, leading critics noticed Benning's major contributions to the "New Narrative". In films like 8 1/2 x 11 (1974), 11 x 14 (1977) and One Way Boogie Woogie (1977), he combined the structural analysis of image, sound and narrative with auto-biographical impulses, as well as with an almost "classical" interest in composition, colour, light and landscape. Using rigourously framed shots, Benning conceived an iconography of the Midwest, and developed a narrative form in which each individual image keeps its autonomy while creating a wealth of associations.
 
During his New York years (1980-88), topics such as history and memory became central to Benning's films, and the use of written text and voiceover took on a new importance. With American Dreams (1984) and Landscape Suicide (1986) he created two milestones of the 1980s. Both works offer a glimpse into the psyche of violent criminals whose deeds are placed in a historical and political context. With his dense collages, Benning generates a specific mental and physical landscape: an American dream which has become a nightmare.
 
After his move to California, Benning began a series of experimental documentaries and essay films. North on Evers (1991), Deseret (1995) and Four Corners (1997) expand his alternate history of the United States, tracing the ways in which political and economic relations are inscribed in the landscapes of the West. With the California Trilogy (1999-2001) and 13 LAKES and TEN SKIES (both 2004), he shifts these considerations into a radical new direction altogether: the attention and imagination of the viewer are focused on one sole image for several minutes.
 
On November 1 and 2, James Benning will introduce his most recent works at the Film Museum – both films have been in production for a number of years. RR surveys the American landscape based on the "geometry" of freight trains and railroad ties; casting a glance, which was recently world-premiered at the documenta in Kassel, examines a pivotal work of 20th century art: the gigantic "Spiral Jetty", erected in 1970 by Robert Smithson in Utah's Great Salt Lake.
 
For Benning's own work, Smithson's example of leaving the Art Gallery behind had been a major impulse. Like Smithson, he can now lay claim to a rare and excitingly "dangerous" quality in his art: to confront oneself with Benning's films can lead to a permanent change in the way one perceives the world.
 
Coinciding with the Retrospective, the Austrian Film Museum will publish the first book on Benning. Edited by Barbara Pichler and Claudia Slanar, James Benning. Films 1971-2007 features essays by Sharon Lockhart, Allan Sekula, Dick Hebdige, Sadie Benning, Julie Ault and James Benning, a detailed filmography and a wealth of color illustrations.
Related materials