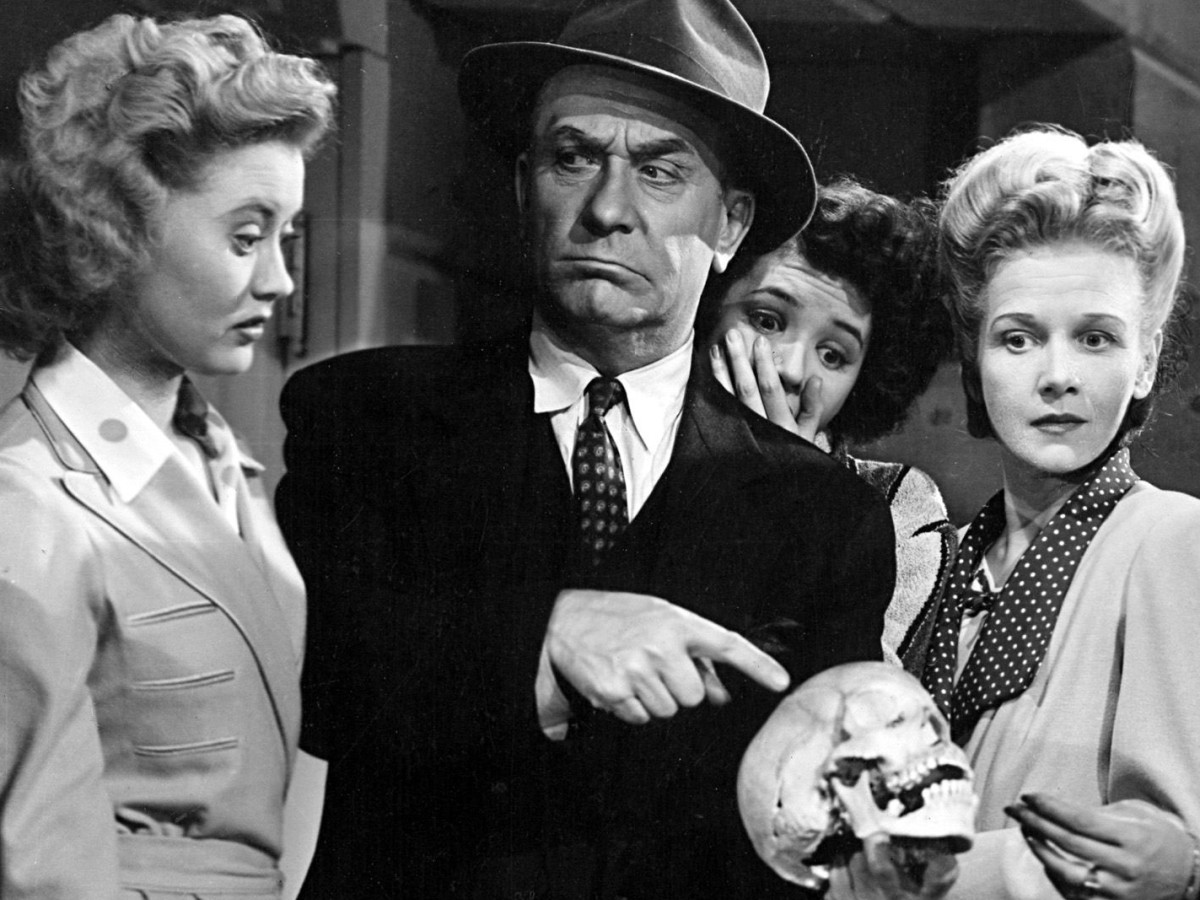 Double Feature
The Falcon and the Co-eds (1943)
Studio: RKO; Regie: William Clemens; Drehbuch: Ardel Wray, Gerald Geraghty, Michael Arlen; Kamera: J. Roy Hunt; Darsteller: Tom Conway, Jean Brooks, Rita Corday, Amelita Ward, Isabel Jewell, George Givot, Cliff Clark. 16mm (von 35mm), sw, 67 min*
Nine Girls (1944)
Studio: Columbia; Regie: Leigh Jason; Drehbuch: Karen DeWolf, Connie Lee, Al Martin nach dem Theaterstück von Wilfred H. Petitt; Kamera: James Van Trees; Musik: John Leipold; Darsteller: Ann Harding, Evelyn Keyes, Jinx Falkenburg, Anita Louise, Leslie Brooks, Lynn Merrick, Jeff Donnell. 16mm (von 35mm), sw, 78 min**
The Falcon and the Co-eds
gilt als der beste Film der
Falcon
-Serie, weil er am wenigsten mit dem Falcon (alias Detektiv Tom Lawrence) zu tun hat, sondern sich auf die Frauenfiguren einlässt. Diesmal schlüpft der Falcon in die Rolle eines Versicherungsagenten, um den Mord an einer Lehrerin in einem Mädchencollege aufzuklären, der als Herzversagen getarnt wurde. Wo die Filmreihe sonst nahelegt, dass Frauen generell unverständlich sind und Probleme aufbauschen, während der (hier von Tom Conway gespielte) Mann, klar strukturiert und makellos, alles zu trivialisieren weiß, dreht
The Falcon and the Co-eds
die Perspektive um.
Nine Girls
ist ein guter Ausgangspunkt für die Neubewertung des produktiven B-Regisseurs Leigh Jason: ein
comedy murder mystery
im nur scheinbar idyllischen Mädchencollege. Ein Mord wird vorhergesagt, die Prophezeiung erfüllt sich auch. "Men beware!", warnte ein Inserat, "These Girls have love in their hearts and murder on their minds!" – Jede der Damen hat ein Tatmotiv, was den Film zum reizvollen Whodunit macht. (C. F./H. G.)
*Print courtesy of Wisconsin Center for Film and Theater Research – UW-Madison
**Print courtesy of Harvard Film Archive
Aus dem Katalog zur Retrospektive:
The Falcon and the Co-eds
is the best of the films in the Falcon series because it has the least do with the Falcon, instead focusing on several female characters. The touch of screenwriter Ardel Wray, who wrote or co-wrote four films produced by Val Lewton, is undoubtedly decisive in giving the film its strong Lewtonesque flavor, to which the main-title music, lifted from Roy Webb's score for
I Walked With a Zombie
, and the recurrence of a seashore location from that film, also contribute, as does the casting of Jean Brooks and Isabel Jewell, whom Lewton had previously teamed in both
The Leopard Man
and
The Seventh Victim.
The Falcon films constantly assert that woman is incomprehensible and ever apt to make mountains out of molehills; man, as incarnated by Tom Conway (who inherited the Falcon role from his brother, George Sanders), is imperturbable and immaculate and trivializes everything.
The Falcon and the Co-eds
doesn't so much overturn this structure as explore it from a female point of view. Always a mild and restrained actor, Conway disappears into
The Falcon and the Co-eds
even more than usual. After the film is over, it's hard to remember him, as if he hadn't been in it, as if it had been a film entirely of women. (Chris Fujiwara)
The rarely acknowledged Leigh Jason was a talented and prolific director of B-musicals and comedies at RKO and Columbia before continuing with equal success in television.
Nine Girls
is a wonderful place to start a critical reevaluation; a brisk and sly comedy-murder mystery set among a small town college sorority whose problematically most prominent member is the vituperative Paula, a spoiled socialite whose fang marks scar each of the other members. "Someday that snake in silk underwear is going to find her neck in a sling!" predicts one of the sisters, and quite correctly when Paula's brutal murder en route to an induction ceremony leaves the remaining seven and two nervous inductees, together with their matronly chaperone, stranded in the sorority's mountain lodge wondering who among them committed the crime they all not so secretly desired. Buoyed by a spirited cast donning competing heart-shape beehive hairdos and including Anita Louise (briefly), Nina Foch and Evelyn Keyes,
Nine Girls
is laced with deliciously catty repartee adapted from the original play by Karen DeWolf and Connie Lee, regular writers for Columbia's popular
Blondie
series. (Haden Guest)